Donating to charity in Finland used to be less popular than in many other Western countries, but recently the trend has reversed. In addition to donating to charity, more and more people prefer intangible gifts when purchasing gifts, which are often perceived as a more responsible choice – and as gifts that are more sure for the recipient. All in all, the willingness to help and the consideration of responsibility are now at a high level worldwide.
Donating to charity is becoming more common in Finland
In addition to volunteering and helping strangers, monetary donations are also becoming more common in Finland at the moment.
"When you look at the development within Finland, you can see that donating to charity has clearly increased. It can also be seen in Edenred's own charitable causes, such as the donations made in our Delicard® gift card service," says Laura Kuusela, Edenred's responsibility director.
All in all, 43% of Finns reported donating money to organizations, which is almost double the amount compared to 23% two years ago. The information appears from a survey conducted in April 2022 by the Responsible Donating Association.
An intangible gift is often a more ecological option
The spectrum of intangible gifts has grown year by year. For a long time, it has been possible to give goats, school supplies and, for example, lamp oil to be donated to developing countries. Now, intangibles have expanded from charity to gifts given to close friends as well.
The popularity of intangible gifts is increasing, among other things, due to the increase in digitalization with various streaming services. The habit of buying services and concern for the environment also support the purchase of an intangible gift.
According to a survey conducted by Edenred in 2021, 72% of Finnish wage earners do not want gifts from their employers. More than half of the employees wish for an individual Christmas present.
"The message to employers is clear, and it also includes an environmental perspective. An intangible gift does not create waste, and will be used more reliably than unnecessary goods. Especially if the gift recipient can choose a gift from several options, the gift will definitely make them happy," says Kuusela and continues:
"As people's awareness grows, the range and number of intangible gifts increases."
The Delicard® gift card selection includes more and more intangible gifts
Edenred's selection of Delicard® gift cards has been renewed this year to better meet individual gift wishes. Delicard® is one of the most popular corporate gifts in Finland.
"There has been an investment in the selection of intangible gifts in particular. In addition to the goods, this year the gift recipient can choose a streaming service, a magazine subscription or, for example, a membership to a training program. Giving the amount of a gift card to a charity has also been very popular for several years," says Kuusela.
Delicard's charity target for 2023 is WWF's Baltic Sea conservation work
In the Delicard® gift card service, the recipient can choose to donate the amount to a charity that changes annually. This year, the donation goes to WWF for the protection of the Baltic Sea. Delicard's selection also includes, among other things, the option to buy wood and thus support the fight against climate change and the destruction of nature. In the past, donations have been collected for SOS Children's Village and the AAMU Finnish Children's Cancer Foundation.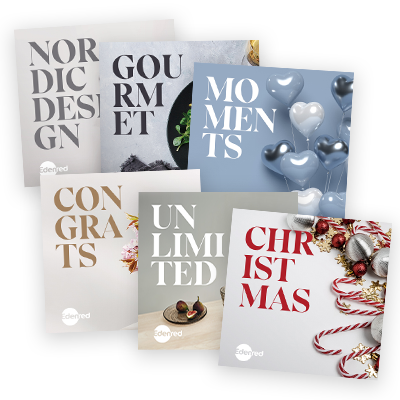 For every occasion and celebration
Order gift cards easily online or ask for an offer for larger orders!