In October 2022, AAMU Finnish Children's Cancer Foundation (AAMU Suomen lasten syöpäsäätiö) received a donation of 116 033 €. The amount was collected with Delicard® gift cards, where card recipients can redeem their gift as a 100% non-deductible donation to a pre-chosen charity target. With the help of donations to AAMU, childhood cancer treatment research in Finland is financed and maintained. The core mission of the foundation is to support clinical research on children's cancers by financing it through active and continuous fundraising. The AAMU Foundation is a financier focused on children's clinical cancer research – the only one in Finland.
The donation was received by AAMU Foundation representative Laura Paasio (left) and handed by Edenred Finland's CEO Peter Hiltunen (right).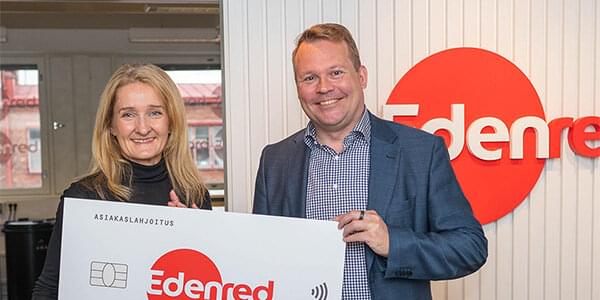 The foundation's work has turned pediatric cancer treatment research into top-level
The importance of donations to AAMU for children's cancer treatment research in Finland is irreplaceable. Top-level cancer treatment studies are always international collaborations, which require more resources than hospitals have at their disposal. Without the clinical research conducted in Finland, the latest treatments would only be available years later than other countries participating in the research – too late for many children.
"Without these donations, childhood cancer treatment research would practically not exist in Finland. With the funding collected by the AAMU Foundation, our children's cancer treatments are now at the top level in the world", says AAMU Foundation representative Laura Paasio.
The AAMU Foundation, which is celebrating its 10th anniversary this year, started its operations in a situation where the development of cancer treatment for children and young people in Finland had practically stopped. Over the course of ten years, the foundation has collected around four million euros, which has made it possible for children with cancer to receive top-level cancer treatment supported by the latest research. Collaborators such as the charity cycling organized by Team Rynkeby and Edenred's year-long Delicard® gift card collection play a significant role in fundraising.
The best treatment results are obtained with the help of international treatment studies
Almost every second day, a child gets cancer in Finland and one out of five sick children dies. The treatment results of the children who participated in the cancer treatment study are up to ten percentage points better than in the treatments that were carried out outside the programs. AAMU Foundation is the only financier operating in Finland focused only on clinical cancer research in children.
"Even the welfare state's tax money is not enough for everything, and every state therefore needs charity to supplement its activities. The AAMU Foundation supports the survival of children affected by cancer with its activities", says Laura Paasio
In Finland, there are only 25 doctor's positions specialized in children's cancer treatment in university hospitals. About 150 children under the age of 15 fall ill with cancer each year. Because the treatments are long-lasting, almost 4,000 children and young people are treated and monitored annually. Without funding, the resources would not be enough for research work. In addition, two out of three cancer survivors have late effects even in adulthood. The funding collected by the foundation supports the development of comprehensive, individual care that guarantees a healthy adulthood.
Through AAMU, the donation goes directly to research
The foundation's continuous fundraising channels donations directly into treatment studies. The goal will continue to be to enable pediatric cancer treatment research funding and state-of-the-art treatment for every Finnish child affected by cancer. In addition, AAMU follows innovations in children's cancer research and is involved in financing the development of treatments, for example, in research related to genetic medicine and immunology, as well as new technology, such as artificial intelligence.
"With this amount, we finance individual research, depending on the research, for up to 3-4 years. Heartfelt thanks to all of you", says Laura Paasio
"We are sincerely grateful to all our customers whose individual donations raised such a large amount for an extremely important cause. Every family that faces the tragedy of a child falling ill deserves all the support and the best care for their child. With these donations, we make sure that that happens too", says Peter Hiltunen, CEO of Edenred Finland.
AAMU Finnish Children's Cancer Foundation in brief
The foundation is a non-profit national foundation whose main mission is to enable the best treatment for children with cancer. The task is carried out by allocating funds to children's cancer treatment research and treatment development projects. The foundation's funds are used to finance clinical trials for which public healthcare does not have the resources. AAMU Foundation is the only financier operating in Finland focused only on clinical cancer research in children.
Warm thank you to everyone who donated in the Delicard® gift card service! Make a donation here.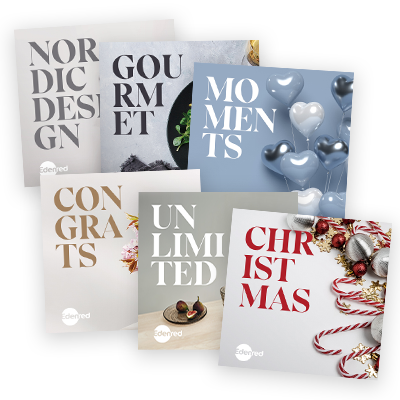 For every occasion and celebration
Order gift cards easily online or ask for an offer for larger orders!