In spring 2021, Edenred's CEO Peter Hiltunen (right), on behalf of Edenred and Delicard® customers, donated 189 186 € to SOS Children's Village (SOS Lapsikylä), which increased to a total of 235 800 € during the rest of the year. The donation was received by Päivi Häikiö (centre), project planner, and Annemi Usva-Vänttinen (left), the corporate cooperation manager of SOS Children's Village.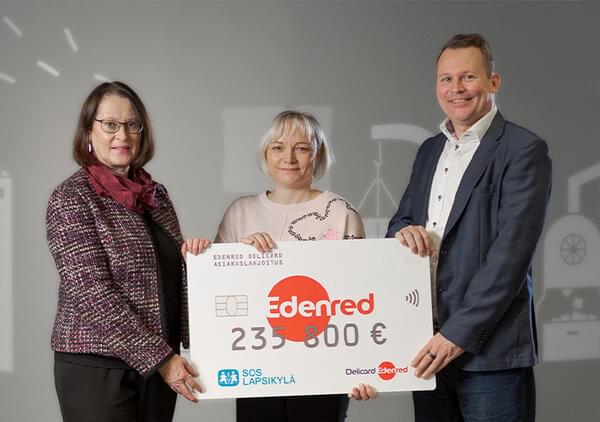 Edenred and Delicard® customers make hundreds of dreams come true
The donated amount was collected by the redeemers of the Delicard® gift cards, who had chosen to redeem their gift through the SOS Children's Village's 'Dreams to Reality' hobby support. The donation was a significant amount for the organization and is said to enable up to 500 children to participate in hobbies. Päivi and Annemi say they have received a fantastic response, with many people congratulating and cheering them on. This shows how important the project really is.

SOS Children's Village 'Dreams to Reality' hobby support helps children and young people from families in challenging situations who would otherwise not be able to start or continue a hobby. Whether the need is short-term or longer-term due to different life circumstances, each applicant is assessed on their individual situation. The starting point is always the child and their wishes and interests. No boundaries are set for their dreams.
A major donation at just the right time
The donation could not have come at a better time. The impact of the pandemic has led to an even greater need and demand for support from families directly and from those working with SOS Children's Village, such as municipalities, school curators, family social workers and leisure activity organizers. The activities are expanding rapidly, and new municipalities are joining the operation.
There are more than 100 000 children living in low-income families in Finland. This puts them in a very unequal position, also in terms of recreational opportunities. Hobby support is targeted at children aged between 7 and 17, and the aim is to reach out to those who would not be able to do so without support. SOS Children' wants to give children the opportunity to grow to their full potential.
"Hobbies have an empowering effect on the child and contribute to their development and discovery of their own strengths. At best, the impact is lifelong." -Päivi Häikiö
The significance of the project carries far into the future
Hobby aid covers a wide range of hobbies. For example, in addition to football, horse-riding, volleyball and music lessons, activities could be extended to include theatre, for example. SOS Children'd Villages can now increase its opportunities even further and make more dreams come true, as donations are a tangible way of granting more positive supporting decisions.
The importance of this support is also highlighted at the societal level, as hobbies serve as a critical pillar of support for many, preventing exclusion and enabling personal development and building a social environment. As well as helping families to realize their dreams and providing financial support, it can also give them hope in difficult situations.
"Our aim is that every child and young person gets the support they need to grow to their full potential. The philanthropists who donated their Delicard gift cards to the children and Edenred are now on board to help. The donation will provide hundreds of children with a hobby for a whole year. A warm thank you to this huge group of people who wanted to support the children who are suffering from the burden of the pandemic." - Annemi Usva-Vänttinen
Children's dreams come true – together
SOS Children's Villages wants to emphasize that it enables dreams to come true together with all its partners, families and donors - the chain of helping takes the support to the concrete destination. Individuals can also offer their help directly through the SOS Children's Villages' website. Even the smallest help is golden.
"For a child in a family struggling with financial challenges, this donation provides a meaningful hobby, meaningful activities and contact with safe adults. I would like to sincerely thank our customers whose individual donations added up to such an impressive amount. It is truly touching that thousands of people chose to use their gift cards to prevent the exclusion of children and young people." -Peter Hiltunen, CEO of Edenred Finland Oy
We at Edenred would like to thank all our Delicard® customers and those who donated to SOS Children'd Village Finland, together we can make dreams come true! Check out the SOS Children's Village's 'Dreams to Reality' -project and donate a hobby.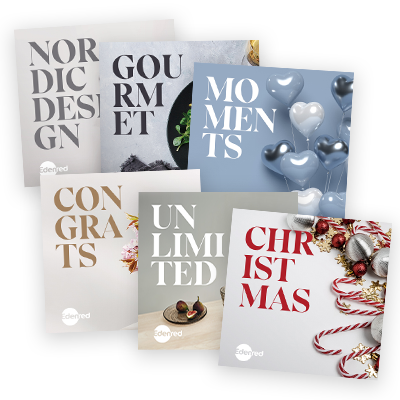 For every occasion and celebration
Order gift cards easily online or ask for an offer for larger orders!