Almost every Finnish employee, up to 97%, expects a Christmas gift from their employer. So, what kind of gift do employees want? More than half of employees want a unique Christmas gift – and the majority prefer something other than goods.
"The employee wants to be considered as an individual. The freedom to choose your own gift is the surest way to ensure that the gift is unique," says Laura Kuusela, Delicard® Brand Manager for Finland.
Freedom of choice meets individual wishes and increases motivation
It is often the choice of the right gift that puzzles employers. How to realize wishes within a reasonable timeframe so that the gift is not seen as unnecessary clutter, but as a high-quality, personalized choice that suits the recipient?
"It is difficult for an employer to know the preferences of every employee. The task is made easier if you choose a gift that offers the freedom to choose from a range of gift options. Then the employee can choose a gift that suits them and is motivating for them," Kuusela continues.
83% of employees said that gifts increase their motivation at work in a survey conducted by Edenred in October 2021.
A Christmas gift chosen by the employee can also be an intangible gift
In recent years, intangible gifts have become increasingly popular. A whopping 72% of Finnish employees do not want their employer to give them a physical item for Christmas. More than 50% want a experiential gift, and more than 20% want food or drink. Only 12% want goods. Gifts of experiences, food and drinks are also a more ecological option than physical items. They are also more likely to be needed and used than items, especially if the employee has been able to choose the gift option they prefer.
"The message to employers is strong and includes an environmental dimension. A streaming service or workout programme that interest the employee and a Christmas treat of their own choosing will certainly be used. Candlestick or doormat is more likely to gather dust in the cupboard," Kuusela concludes.
The Delicard® gift card also opens the door to intangible gifts and charity
The Delicard® range of gift cards is tailored to meet modern, individual Christmas gift wishes and corporate needs. That's why we have also invested in a range of intangible gifts, in addition to high-quality and carefully selected gifts of goods and food. Delicard® gift card recipients can now also choose to receive a gift such as a streaming service, a magazine subscription, or a membership to a fitness programme.

One very popular intangible gift with the Delicard® gift card service has long been the donation of a gift card amount to a different charity each year. Delicard® gift recipients have helped to raise substantial donations in previous years for SOS Lapsikylä and AAMU. In 2022, the donation will go to WWF for the protection of the Baltic Sea. That's why the Delicard® gift card is also a perfect Christmas gift for those who already have everything – and for those who want to put good things into circulation.
With a gift card, you can thank employees, partners and customers in an individual and unique way
Whether the recipient is an employee, a partner or a customer, Delicard has a range to suit all tastes. A renewed range of intangible gifts ensures that every recipient gets a gift that works for them.

In addition to intangible gifts, the range includes high-quality, stylish, and responsible gifts ranging from interior design to kitchenware, Scandinavian design, and camping accessories. Classic and popular gourmet delicacies are also part of Delicard's traditional range.
Employee gifts are tax-free up to 100 €
Employee gifts are tax-free up to 100 €. Edenred's survey reveals that a good value of the gift perceived by employees is in the range of 50-100 €.

However, when buying Christmas gifts for staff, it is also a good idea to consider the rules on tax exemption for gifts. In a nutshell, the Tax Administration specifies that the same gift must be purchased with the same value for all staff, the gift must be chosen by the employer, its range must be limited, and its value must not exceed 100 € per employee per calendar year. Delicard® meets these conditions, making it both a personalized and – best of all – tax-free gift.

*The information in this article is based on responses to a survey conducted by Edenred in October 2021. Edenred is Finland's leading provider of employee benefits, including Delicard® gift cards. 812 Finnish employees responded to the survey. The sectors with the highest representation of respondents were health and social work, public administration and organizations, telecommunications, construction, installation and maintenance, and customer service. 59% of respondents are women, 40% are men. 1% are of a different gender or do not wish to disclose their gender.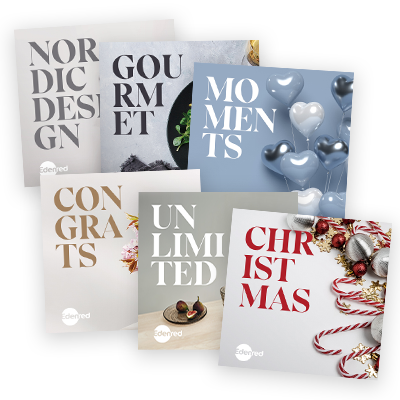 A gift that suits under everyone's Christmas tree
Order gift cards easily online or ask for an offer for larger orders!