Edenred's 2021 survey on corporate gift culture explores how employees feel about rewards and gift-giving in the workplace. The survey shows that gifts are perceived as motivating and engaging. Up to 97% expect a Christmas gift from their employer!
Almost everyone expects a Christmas gift from their employer
Gifts are a way for employers to get staff to put even more effort into their work. 83% of Finnish employees say that gifts from their employer increase their motivation at work.
Gifts are often appreciated as a way of thanking for hard work and congratulating on career milestone anniversaries. Christmas is the golden time for gift-giving, when practically everyone wants a gift from their employer. While Christmas parties are a typical and often pleasant tradition in the workplace, employers may even be surprised by the overwhelming popularity of Christmas gifts as a way of getting into the Christmas spirit. Given a choice, only 38% would prefer a Christmas party to a Christmas present from their employer.
In particular, self-selected Christmas gifts encourage and motivate employees
Practically everyone wants a Christmas gift from their employer, with almost 97% of employees expecting one. In addition, 60% of them would also like to choose their own gifts.
"Christmas gifts are clearly a chapter of their own and part of the Finnish work culture; Finns expect to receive a Christmas gift from their employer. Christmas gifts are also well ahead of Christmas parties in terms of popularity. I guess you can conclude from this that employers have been successful in their Christmas gift purchases," says Laura Kuusela, Finland's Delicard brand manager.
Gifts and rewarding play a role in commitment
Listening to most employees, it is clear that they appreciate the gifts they receive from their employers. From the company's perspective, this is also reflected positively in their contributions. Finns have a culturally appropriate attitude towards gifts, which are seen above all as a sign of hard work and excellence.
"Gifts are most often sought as a way of thanking people for their work and congratulating them on career milestone anniversaries. Except for the Christmas period, 53% of Finnish employees think that they would prefer to be surprised in the middle of everyday life rather than on holidays and events. It is therefore a good idea for employers to treat the distribution of employee gifts as a sign of appreciation," says Kuusela.
In addition to work motivation, gifts strengthen workplace loyalty, with 62% of employees seeing commitment as the most important reason for their employer to remember them with a gift. One in five feel that the most important reason is to boost team spirit.
The monetary value of a gift is often seen as a measure of the employer's appreciation
In Finland, the monetary value of gifts is also important for gift recipients. More than half of employees consider the monetary value of a gift to be comparable to the value they receive from their employer.
47% feel that a good gift costs between 51 € and 100 €, 31% between 101 € and 200 €. From the employer's point of view, 100 € is an essential threshold, as this is the value of the tax-free gifts that can be given to each employee per year. 52% of employees value a personal gift the most. Only 4% value gifts shared with colleagues most.
The Delicard® gift card meets individual wishes
Gifts are seen as a sign of appreciation and a reason for motivation and commitment to the workplace. Almost every employee is looking forward to a Christmas gift again this year. The effort to make this wish come true is ultimately a relatively small investment for companies, but its symbolic importance for employees is greater than its size.
Delicard® gift cards are designed for corporate use and offer the recipient a personalized choice from Scandinavian design to quality kitchenware, Christmas treats, charity and intangible gifts. The sustainability of the products also plays a major role in shaping the range. And best of all, every gift recipient chooses their own product from the range.
*The information in this article is based on responses to a survey conducted by Edenred in October 2021. Edenred is Finland's leading provider of employee benefits, including Delicard® gift cards. 812 Finnish employees responded to the survey. The sectors with the highest representation of respondents were health and social work, public administration and organizations, telecommunications, construction, installation and maintenance, and customer service. 59% of respondents are women and 40% are men. 1% are of a different gender or do not wish to disclose their gender.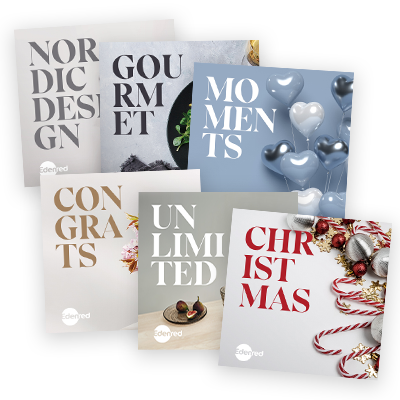 A gift that suits under everyone's Christmas tree
Order gift cards easily online or ask for an offer for larger orders!