Currently, the skills shortage in several fields is reflected in employee turnover. How can companies keep their valuable talent more satisfied and engaged? Rewarding employees should not be forgotten or left only for the Christmas season – because a small gesture has a surprisingly large impact on overall satisfaction.
1. Rewarding is part of the employee experience
An employee's experience of their employer is not based on a single factor but is the sum of several. Satisfaction is influenced by many factors, from salary to job flexibility to benefits and rewards.

Rewarding is often an underestimated way of influencing employees. It is one of the most cost-effective ways for a company to show appreciation and engage employees. On the other hand, staff shortages and high turnover are always costly for the company.
2. Rewarding is a concrete act of appreciation
Benefits and rewarding are a very concrete way of showing the employee how much they are valued. When an employee invests in their work, how much is the company willing to invest in their employee?

Often, however, the planned rewarding of staff may be neglected in a company's annual activities. The financial investment of a seasonal gift is relatively small in relation to the overall budget. Its impact can therefore seem mistakenly small from the employer's point of view.

However the impact on the employee's feelings is often very great. The gift feels like a personal memento, and a nice surprise because it is not written into the terms of the employment contract. Instead, receiving a gift creates a sense of appreciation precisely because the employer is not obliged to remember the employee with a seasonal gift - but does so anyway. Delicard® gift cards are a great solution to this, as they meet the needs and wishes of every gift recipient.
3. Rewarding increases motivation and therefore engagement
In the survey we conducted, employers were asked what they considered to be the most important reasons for rewarding employees. Most respondents cited motivating employees (74%) and strengthening employee commitment (61%).

Personalized rewarding has a direct impact on an employee's sense of appreciation and is more motivating and engaging than words of praise alone.
4. Personal attention meets a basic psychological need
The key to creating a rewarding culture is repetition, as it builds the culture of the company over time – whether it's a welcome gift, a seasonal gift, or a commemoration of a long career. Rewarding itself is a psychologically intensive part of building and maintaining motivation.

Remembering an employee creates a warmer and more humane image of the company for employees. Although small in scale, the impact of the gesture is based on the basic psychological needs of people to be recognized as individuals and rewarded for their work. When making decisions about life's big issues, such as choosing a job, it is important not to underestimate the importance of emotions.
Delicard® gift card is an easy way to say thank you in a unique way
Employees are the company's most important asset. That's why it's good to check that the employer's own selection of tools includes concrete actions that can be used to motivate, reward, and engage employees. Edenred's Delicard® gift card has been created as an easy way for employers to remember their employees.

Delicard's wide range of quality and responsible products includes personalized gifts from fishing gear to Finnish design, from jewellery to camping and cooking equipment, as well as intangible gifts. The range of intangible gifts includes streaming services, magazine subscriptions and online training memberships. Gift recipients can choose the gift that suits them best, as a reminder that their efforts are appreciated.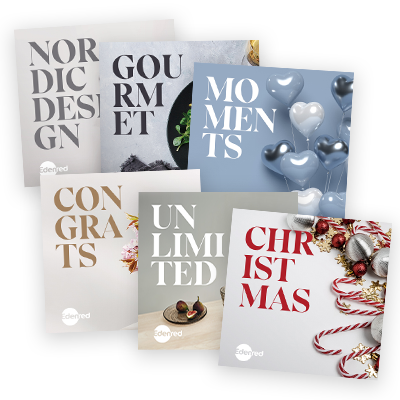 For every occasion and celebration
Order gift cards easily online or ask for an offer for larger orders!